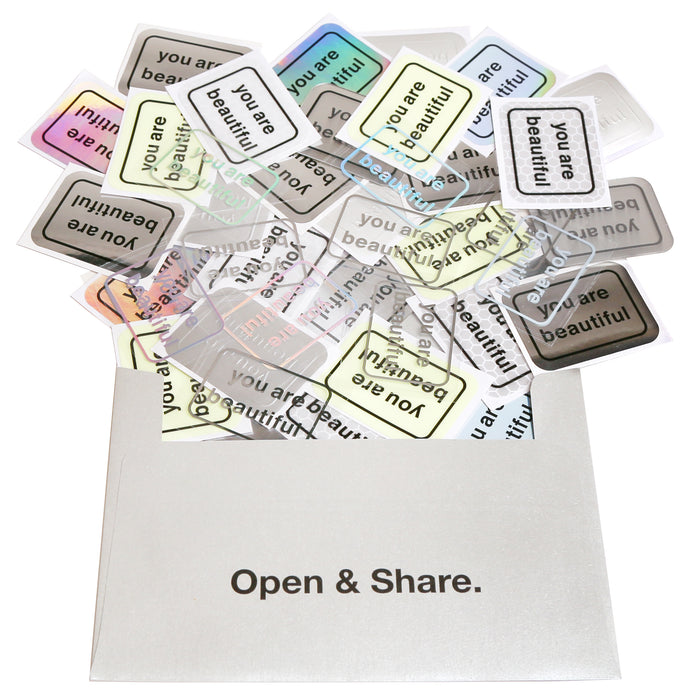 Classic Variety Bundle
Sale
Sale
Original price
$20.00
-
Original price
$20.00
Ships Free!
This item has Free Global Shipping. Simply checkout with only this item in your cart.
Enjoy the mystery with our 30 Sticker Variety Pack of our Classic Stickers packed at random! 
Share positivity with these motivational stickers, and remind each and every single person to be confident in who they are. There's no one you need to try to be, other than yourself. Just be you, and that's enough. 

These stickers can offer a simple smile, or have a much deeper impact on our mood and well being. This simple message can remind us to love who we are, and focus on the power of self acceptance. 

There are so many ways to use these stickers! Create random acts of kindness, pay it forward, help boost confidence, increase self esteem, motivate, inspire, and give joy as you travel the world & explore on your next you are beautiful spreading adventure. 

The big question now is, what will you do with yours? 

Share these stickers with your world! Slap one up, hand one away to a stranger, leave one on a bus seat for the next person to find -- Get creative! This is where you can let your creativity shine :) Share what you do with the community! Tag your photos #yabsticker.

You Are Beautiful Stickers are printed in the USA & China, and packaged in our studio in Chicago.