You Are Beautiful Meaning
We make stickers to remind you that you are beautiful. You deserve kindness & compassion. It's a simple reminder to just be yourself. 
We create motivational quotes like "anything is possible" and "you got this", and inspirational quotes like "you are beautiful" to remind us why kindness is important. 
We believe in the power of positive messages. We know from experience that life can sometimes feel difficult, and negative thoughts can feel consuming. By creating short positive messages, these kind words can help keep a positive mindset as you go through life. 
For us, sharing these positive messages with others gives purpose in life. It's exciting to be on a mission of kindness, and feels so fulfilling to be paying it forward each and every day.
Now go share this positive message with your world!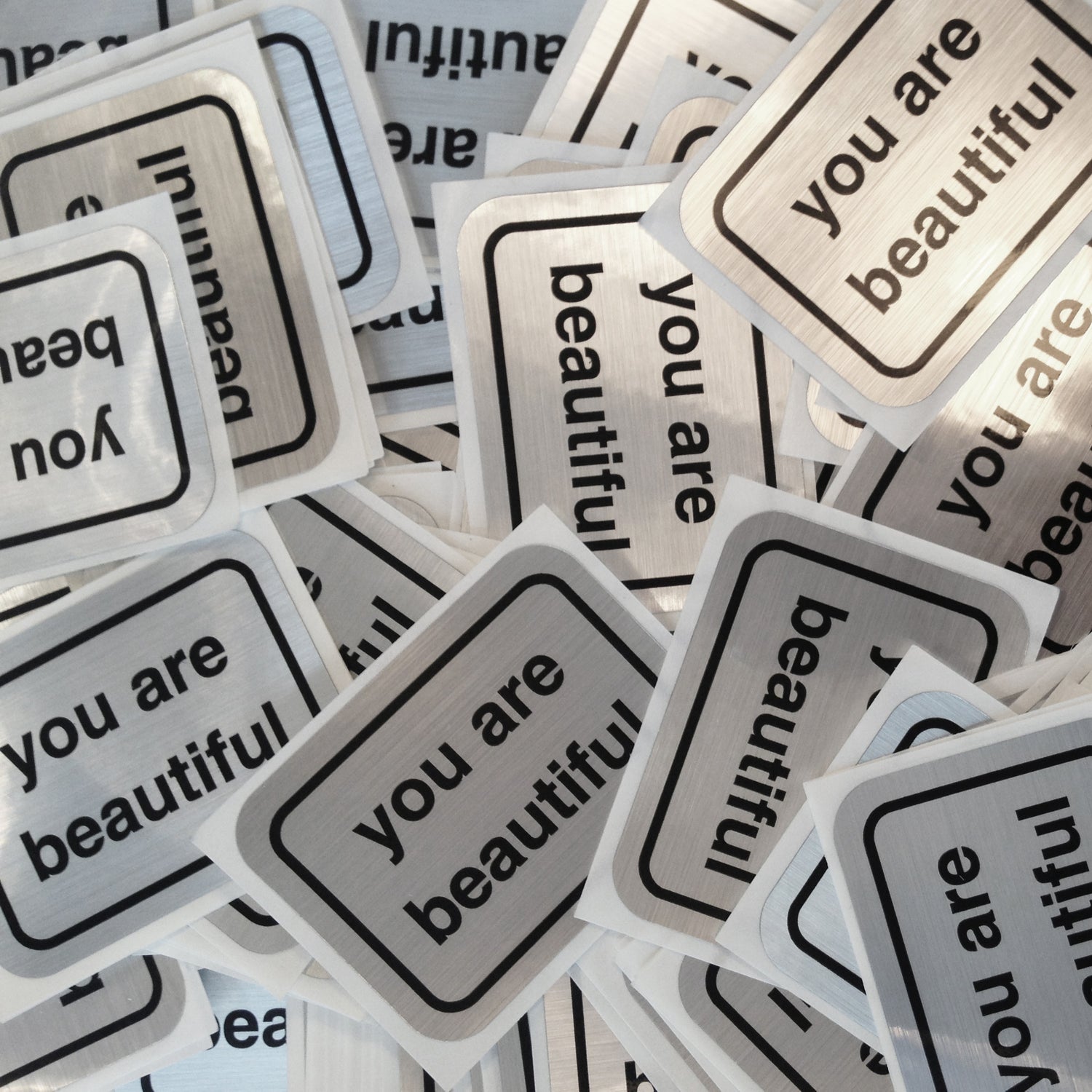 How did it all start?
You Are Beautiful began in 2002 as a passion project. After googling "how to make custom stickers" we ordered a small test batch. It started with only 100 printed stickers that were put up in the Wicker Park neighborhood of Chicago. It soon evolved into street art pieces around the city with the you are beautiful signs created to blend in with daily life. 
Around that time, we created a single html webpage that said "If you'd like 5 free stickers, simply send a self addressed stamped envelope." To this day, we still offer free you are beautiful stickers, over 20 years later. The unexpected surprise, was that people would send hand written letters, saying how they came across one of these stickers & what it did for them in that moment. Now they wanted their own stickers, so they could give other people that same feeling.
The community is what has made this project what it is today. Individuals all around the world, wanting to pay it forward, to be kind to one another, and make the world a better place. The you are beautiful campaign exists because of you.
How can I get involved?
Our mission has been to nurture an open and inclusive community, with no barrier to entry. It's simple, share kind words with others. You can do this directly, by handing a sticker to someone you think would appreciate it. Or, if you're introverts like us, you can stick them up, or leave one on a bus seat for a stranger to find. There's really no wrong way to share positivity!
To get stickers, the quickest way to get them is to order them on our site. Plus, a portion of every sale goes directly to funding public art. Every year, we donate an outdoor sculpture to a community(yabforall) that otherwise might not be able to afford it. Another way we're paying it forward. 
If money is an issue, don't worry about it. Know that you still belong, and there will always be room in the community for you. Click here to learn how you can get a free sticker pack (freestickers) by simply sending in a self addressed stamped envelope. (We didn't grow up with much, and saved up plenty of cereal box tops, to get all sorts for free stuff in the mail :)
We can't wait to share these stickers with you!
It started in the garage.
We ran this project out of our house (our garage to be specific) for many years. It was long before the days of work from home, and we loved it. After a decade and a half of doing this, we were bursting at the seams of the house, and with some complaints from neighbors - we were encouraged to find a permanent home. 
We opened YAB HQ in 2018 in the Avondale neighborhood. We have a retail store front which is open to the public, as well as housing our studio & woodshop. We created the space to become a community hub for creative inspiration. 
In our store, we offer meaningful gifts for friends (or for yourself!) We believe kindness can always be shown with thoughtful gifts given to each other. We are extremely grateful for the global community who has visited our openings, workshops, and open gallery hours.
Feel free to visit us when you're in town, we'd love to meet you!
Who started You Are Beautiful?
The moment you see a You Are Beautiful sticker or sculpture, and it does something for you, that's the goal. That moment is for you. 
The focus is meant to be on the message itself, not necessarily who's behind it. But we also realize people get very curious. Matthew Hoffman started the project in 2002, and calls himself the Custodian of You Are Beautiful (he says someone has to keep the lights on, and the floor clean). Learn more at heyitsmatthew.com.
It all began when Matthew moved to Chicago for his first job out of college. After only living in small towns & rural areas in the midwest, the city was exciting & amazing to explore. There was also a lot of audible and visual noise, much of it negative, which can make you feel lost and alone in the chaos. Matthew was struggling to stay positive, and wanted to create a small reassuring message: "there's nothing you need to do, no one you need to be, just be yourself, & that's enough."
Watch You Are Beautiful on Oprah